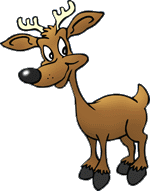 I am one of Santa's famous reindeer. Santa has hundreds of reindeer, but so far only 9 of us are famous. We seem to get all the attention. Movie directors and photographers are always trying to meet us. We are in the movies a lot. But I don't know why they make so much attention about us.
One thing I really like to do is go on the Christmas Eve trip with Santa. So many children leave us carrots and apples on their roofs. Apples are my favorite and I know Dancer loves carrots. Silly old Rudolph loves cookies, although they are not that good for him.
I hope you enjoyed my story and I will see all of you on Christmas Eve.
Prancer.