I am one of Santa's famous reindeer. My parents named me Dancer because when I was born my hooves were black and shiny and they looked like little tap shoes.
Well I lived up to my name. I love to dance. I dance so much that my hooves are starting to wear out!
I dance all the time, even when I'm flying. That's when I am the happiest; my feet are free to move around.
I hope you enjoyed this story and I will see all of you on Christmas Eve.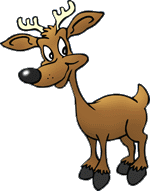 You're Friend,
Dancer.