I am one of Santa's reindeer. I was chosen by Santa many years ago to pull his sleigh. Back then, we only needed six reindeer to do the job, but with so many children being born (we refer to them as baby boomers), the sleigh was getting heavier and heavier with so many more toys. And now we have nine reindeer including our friend Rudolph. Thank goodness for his shiny nose. Dancer and Prancer used to have big spotlights strapped to their heads, and the batteries were constantly dying out. One year Santa had us land on WalMart's roof so he could run in and buy batteries. You can imagine that scene.
I hope you enjoyed my story and I will see all of you on Christmas Eve.
P. S.: I love apples if anyone would like to leave me a few outside.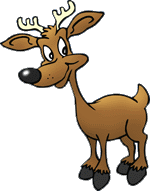 Hi, my name is Blitzen,