I am one of Santa's famous reindeer. I am a genuine movie star. My friends and I are in lots of movies. Our pictures are in all the stores, and in magazines and newspapers. We receive millions of letters from children all year long.
But for some strange reason, I still sleep in a cold barn and have chores to do everyday. I think that with my movie-star status, I should be living the life of a rock star; but up here at the North Pole, Santa won't have any of that.
Maybe when I retire, Santa will let me move to Florida where it is nice and warm.
I hope you enjoyed my story and I will see all of you on Christmas Eve.
P.S.: I love apples if anyone would like to leave a few outside for me.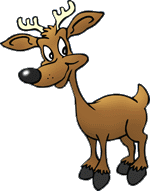 You're Friend Donner.