I am one of Santa's famous reindeer. My parents named me Cupid because I was born on Valentine's Day. Thank goodness I wasn't born on Groundhog Day. They probably would have named me
Ground hog!
My job here at the North Pole is to be a matchmaker and make sure everyone has a friend. It's such an easy job because everyone loves one another up here.
I also write a column in the North Pole Newspaper. It's called Cupid's Friends.
I hope you enjoyed my story and I will see all of you on Christmas Eve.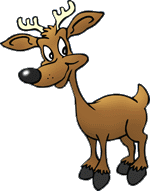 You're Friend,
Cupid.